Triggered by the financial and economic crisis, protests movements have spread, notably in Europe and in the U.S., be they famously named and democratic (Los Indignados/Real Democracy Now, Occupy, etc.) or not. We call them here the "new opposition nexus." Despite much dismissal and their inner difficulties (intrinsic to new movements), they are now worrying enough, at least in Europe, to prompt the Swiss military to conduct exercises on the theme of "violent instability in Europe," called Stabilo Due (6 to 21 September 2012).
If you follow those movements, then an interesting trend, source-wise, has been emerging over the past months. People are increasingly referring to and using RT for information.
RT is the acronym for Russia Today, a state-sponsored yet editorially independent Russian Television Network created in 2005. Since then, it has elicited its share of criticism for biases, promoting conspiracy theory like viewpoints, and efforts to spread pro-Russian views, as described, among others, on Wikipedia, or as echoed by Zwick, "Pravda Lite: Why are liberals lending credibility to a zany Russian TV station?" in The New Republic, trying to obtain an objective judgement (2012).
Yet, this does not deter the audience, as shown by the various social networks' subscriptions measures, which can be taken as proxy indication for influence on the World-Wide-Web, where the new opposition nexus thrives and organises itself.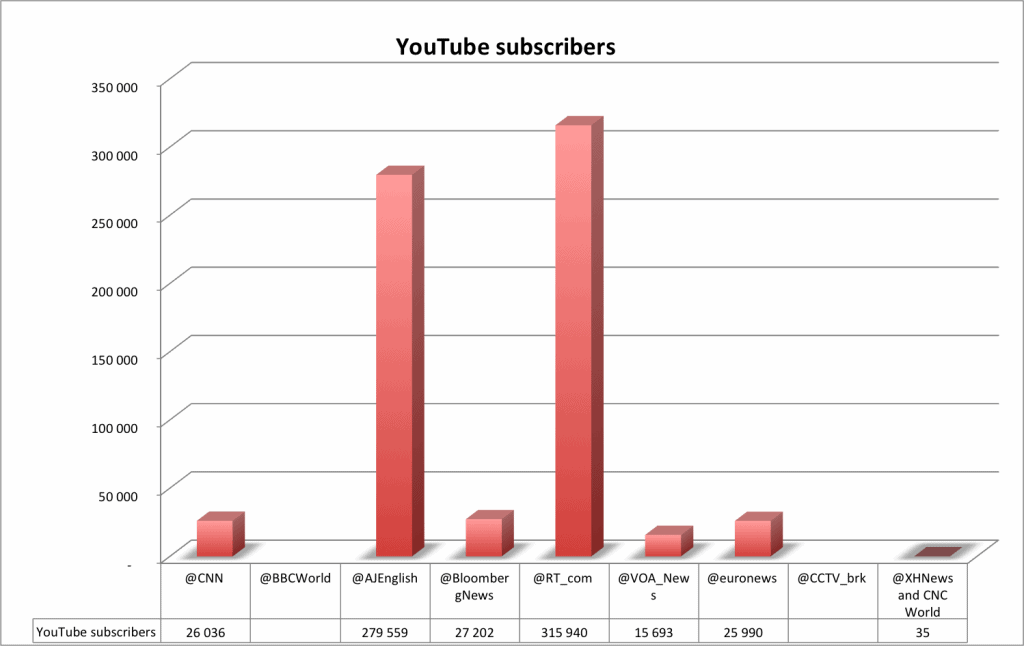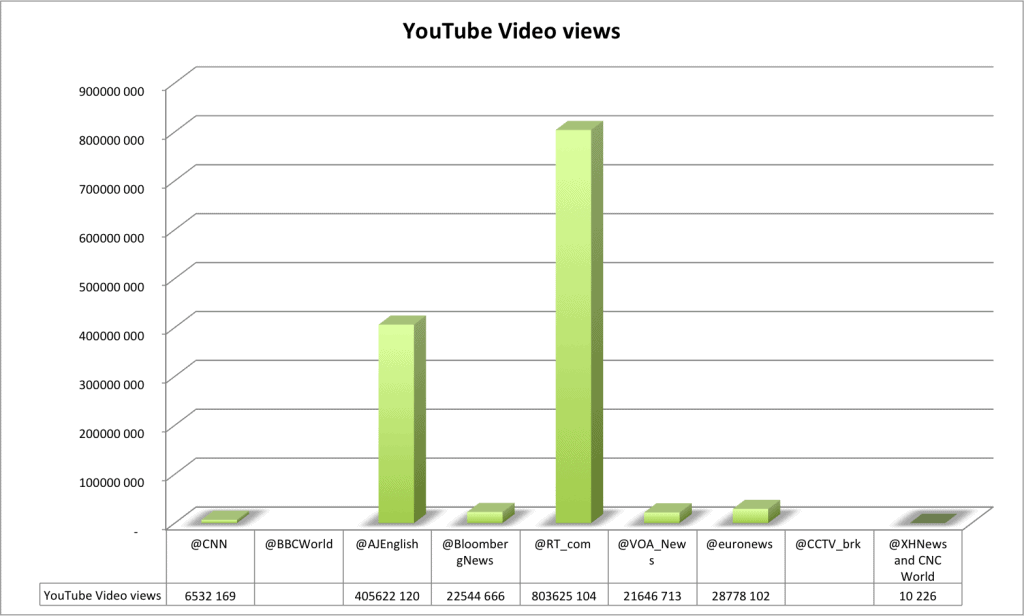 RT arrives well before VOA, or the Chinese Xinhua (and CNC World) and CCTV in terms of Twitter followers, yet is still dwarfed by mainstream CNN and BBC World, and much less followed than Al Jazeera English and Bloomberg News. The results are inverted on YouTube, where RT obtains its most amazing results. This October 2012 measure confirms the trend observed by the Pew Survey conducted from January 1, 2011, through March 30, 2012 ("YouTube and News," July 2012) and pointed out by Jennifer Martinez on the Hill Technological Blog. We are witnessing 12,8% increase in 10 months (the Pew Survey counted more than 280.000 subscribers for RT, compared with today 315.940 subscribers).
Initially, as the RT archives show when consulted between Mars and June 2011 both for RT.com and for Actualidad RT (RT Spanish channel), the network did not follow more the rise of a new opposition movement in Europe than other media. This birth, in Europe and not in the U.S. with Occupy, continues being ignored by otherwise very interesting timelines of events such as the Guardian "Eurozone crisis: three years of pain."
However, when the movement spread, this time, to the U.S. with Occupy, and notably when clashes with the NYPD made it famous, RT started an in-depth coverage that won it a nomination for the 2012 International Emmy Awards.
More importantly from the point of view of the new opposition nexus, since then, RT is not only part of those media that follow closely the various protests, but one of the few that tend to focus on protests first, sometimes indeed looking for more extreme events (for example, compare RT video below on the 20 October London demonstration with Al Jazeera one), over the mainstream business, economics and one-sided political elite approach. Despite in-depth reporting done by some, such as The Telegraph "Debt crisis: as it happened" or The Guardian Eurozone Crisis Live, RT is sometimes the only one (or the first one) to report on some pieces of information: for example, the participation of Greek reservists of the Special Forces in the 9 October 2012 anti-Merkel demonstration. Without blowing incidents out of proportion, those must also be considered, because, when accumulated, they are an indication of rising tension, here in Greece. In this specific case, involvement of reservists might be a weak signal indicating that the very means that allow the state to preserve its monopoly over violence could potentially be starting to fracture. More generally, if incidents are, in effect, taken out of context and rehashed by political actors, then the perception they create becomes escalating in itself.
Building upon the unorthodox financial views of the Kaiser report series, started in November 2009, this makes RT a media of choice for proponents of the protests, for people looking for and interested in non mainstream, thus alternative world-views, as well as for students of those movements.
An increasing influence of RT is also indicating the rising relative importance of interest in those alternative views. As more people experiment in their everyday life the violent impact of an unrelenting crisis, become aware of a multiplication of problems, and yet are offered by mainstream channels only old recipe, explanations and reassurances, they look for meaning and answers elsewhere.
As mainstream media continue having a strong influence, then we could be witnessing the start of a rising polarisation, notably within Western society, with RT playing a crucial role in terms of information, choice thereof, and ideas. Should this pattern be confirmed, then, ironically, it would not be without recalling, everything being equal, the role some Western radios (RFE, RFL, VOA, and BBC World) played for the Soviet dissidence during the Cold War.
Featured image: Russia Today studios building, Moscow, 2013, By Artem Svetlov from Moscow, Russia (Russia Today studios building, Moscow) [CC BY 2.0 (http://creativecommons.org/licenses/by/2.0)], via Wikimedia Commons.